What Is Hyundai Rear Cross-Traffic Collision-Avoidance?
Hyundai Rear Cross-Traffic Collision-Avoidance is a high-tech safety system that can detect oncoming vehicles when reversing. By using sensors mounted at the rear of the vehicle, this system helps avoid and prevent rear collisions when backing up, even in low visibility.
Parking lots and driveways are some of the most high-risk areas for low-speed collisions. From increased distractions, poor visibility, and high traffic, these areas can be stressful to navigate. Fortunately with Hyundai's Rear Cross-Traffic Collision-Avoidance system, rear-end collisions can be significantly reduced while backing up. Now although all new cars today feature a backup camera as standard, they can only help see what is directly behind you, leaving you vulnerable to vehicles coming from the left or right. By using advanced scanners, Hyundai's rear-traffic alert system can detect oncoming traffic up to 65-feet away, giving an early-warning to help prevent a collision. If an oncoming vehicle is detected, the system will play an audio alert, as well as display a "Brake Now" message on the instrument cluster. For added safety, this system can even apply the brakes automatically to prevent an imminent collision.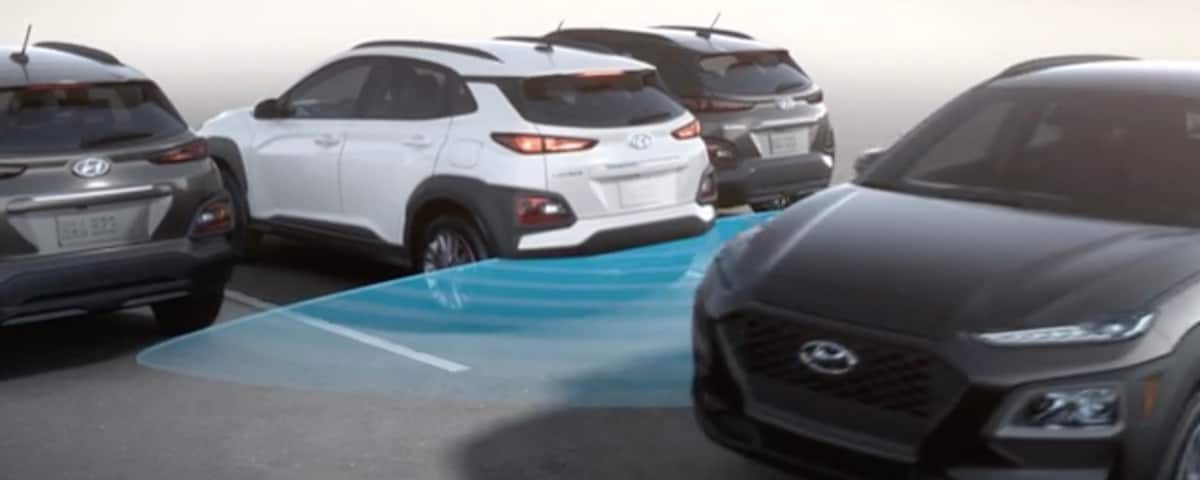 How to Activate Hyundai Rear Cross-Traffic Collision-Avoidance
With the ignition on, press the LCD Display button on the right side of your steering wheel. For reference, the LCD Display button will look like a stack of papers. Keep pressing this button until your see User Settings on your instrument display.
Navigate to Driver Assistance and select Blind-Spot Safety. Make sure the box next to Rear Cross-Traffic Safety is now checked.
Rear Cross-Traffic alerts are now active, and will remain so unless manually deactivated from the same menu.
New Hyundai Vehicles With Rear Cross-Traffic Collision-Avoidance
Hyundai Rear Cross-Traffic Collision-Avoidance is one of the most important safety technologies for low-speed driving. This incredibly beneficial technology is now available with many new Hyundai cars including the Sonata, Veloster and Kona. You can also find this technology on all Hyundai SUVs, including the Tucson, Santa Fe, and the all-new Palisade. For more information about the Hyundai Rear Cross-Traffic Collision-Avoidance system, or one of the many other Hyundai technologies, feel free to contact us at 847-346-0144 to speak with one of our friendly and knowledgeable teammates. While you're here, be sure to explore our complete inventory of new Hyundai cars and SUVs with Rear Cross-Traffic Collision-Avoidance for sale at our showroom in Des Plaines.